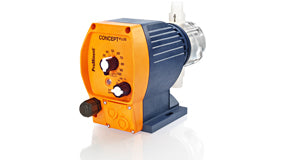 Prominent Concept B Series
A capacity range of 0.19 to 4.33 GPH (0.7 to 16.4 LPH) at pressures up to 232 psi (16 bar).
Its compact construction and features make it ideal for use in flow proportional or on/off control applications. The Concept Plus mounts easily onto a tank or wall bracket.
Adjustment of the pump capacity is via the stroke length in the range of 10-100 % or can be set at 1 of the 4 stroke frequency settings
This gives an adjustment ratio of 40:1.
External control via dry contact pulse (1:1)
PVDF Liquid ends are ideal for standardization.
Wetted end materials: PP. Acrylic/PVC or PVDF
f